COVID 19- We will be having a family-style service on the lawn at The Vineyard at 6pm. Please watch Pastor Jordan's video to hear our heart behind this decision & read the details below for what to expect Sundays.
CHURCH ON THE LAWN
Pre-Service Prayer Details:
We will be having a social-distanced pre-service prayer at 5pm, please meet on the lawn.
Service Details:
Park in the normal parking lot.
Because it's more difficult to socially distance while walking in, we encourage wearing a mask from the parking lot to your seat. At that point, you can remove your mask if you choose!
Walk around the back of the building to the lawn, which is on the opposite side of the building as Chinden.
Please sit with family/friends from your household and maintain social distancing.
Packets will be provided for kids to engage with during service.
Use the restrooms in the lobby. Enter through the back side of the building, entrance next to the playground – through the line of trees.
There is no seating or media screen outside, so please bring:

Water
Your choice of seating in designated areas:
For those of you at risk, we will continue to have the livesteam service and encourage you to watch from home. We love you and miss you!
If you have symptoms, have been around someone who has tested positive, or are waiting for your test results we kindly ask that you would stay home and engage with the livestream. We thank you for loving your neighbor well!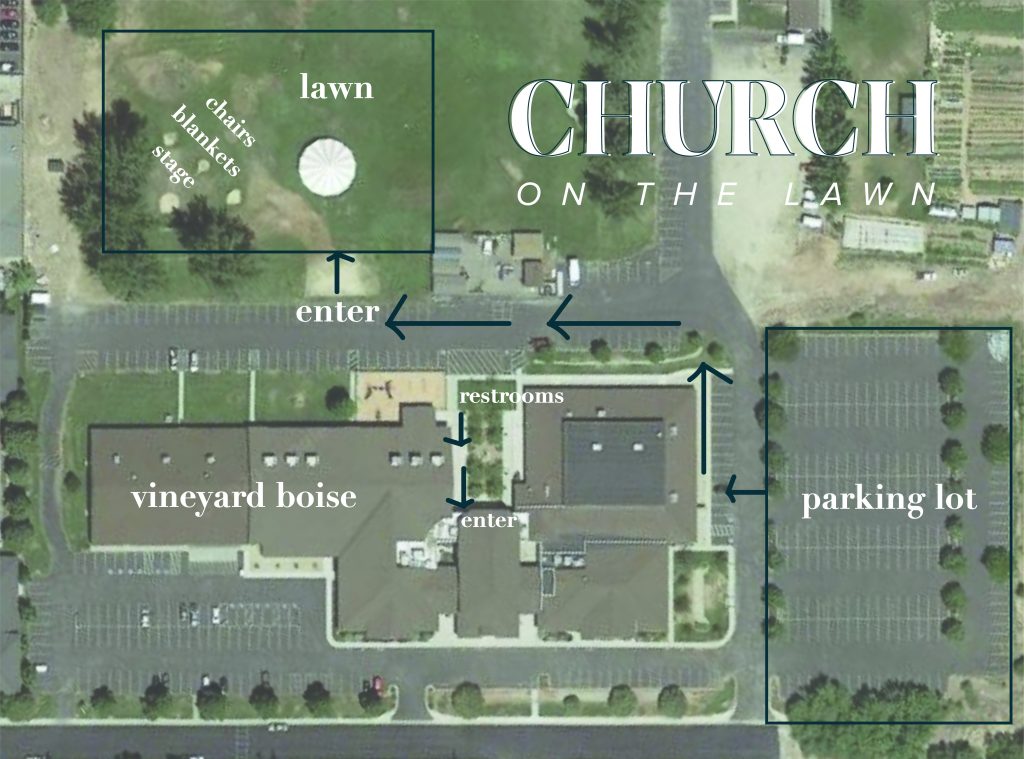 SUNDAYS | 6PM
KIDS MINISTRY (0-12) | not currently available
JUNIOR HIGH MINISTRY | not currently available
4950 N Bradley St Garden City, ID 83714
We really want to meet you! We truly are a family, and we hope you will feel loved and seen when you visit! If you would like more information before your visit or would like to connect with someone ahead of time, please email [email protected]